Leadership Team
Confidentiality
Quality Assurance


Confidentiality of Client Data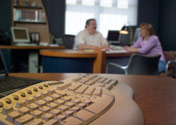 We ensure that all associates understand the importance of maintaining complete confidentiality of all client data.
We provide physical and logical safeguards to protect data from unauthorized use or access.


Our internal server cannot be accessed from outside our facility, thus allowing us to maintain the highest degree of data security.