Services We Provide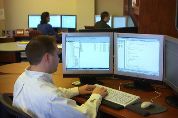 Our clients include Fortune 500 companies, clinical research facilities, and universities. Among the services that we provide to these institutions are:
Data analysis and programming support of FDA, EMEA, and other regulatory agency submissions, including materials for the preparation of NDAs, PMAs, and 510(k)s.
Support for the preparation of submissions for product acceptance by the American Dental Association or other regulatory agencies.
Preparation of documentation to support advertising or other product claims.
We work closely with our clients to evaluate the requirements of their studies, and to design an appropriate package of services to meet their needs. We offer a wide range of services, including the following:
Statistical Services
Study design

Sample size / power calculations

Randomization

Data analysis / interim safety analysis
SAS Programming
Specialized Applications
WinNonlin processing of pharmacokinetic data

MedDRA processing of adverse event data

Processing of Digitrapper Data from GERD studies
Data Management
Clinical data management using Clintrial 

CRF design and development 

Data query management

MedDRA and WhoDrug Thesaurus coding

External data integration with validation

Quality and edit checks on client database 
Study-Related Documentation
Statistical reports

Clinical Study Reports

Statistical Analysis Plans

Case Report Form Design

Manuscripts

Abstracts and presentations
We're Significantly Statistical®


In the event of a catastrophic loss of our facilities, our disaster recovery plan is designed to ensure that the complete restoration of data and resumption of processing can take place within 48 hours.